Dear YumeTwins family,
Due to the uncertainty of recent global events and the impact of COVID-19, many in our community have reached out to us with questions. We wanted to keep you informed with an update from Japan Post.
On April 1st, 2020 Japan Post announced that mail services for a total of 155 countries will be suspended due to the Covid-19 crisis. Although this may cause difficulties and possible delays for our service, people from most countries are still able to order the YumeTwins May box. Please read more about this below.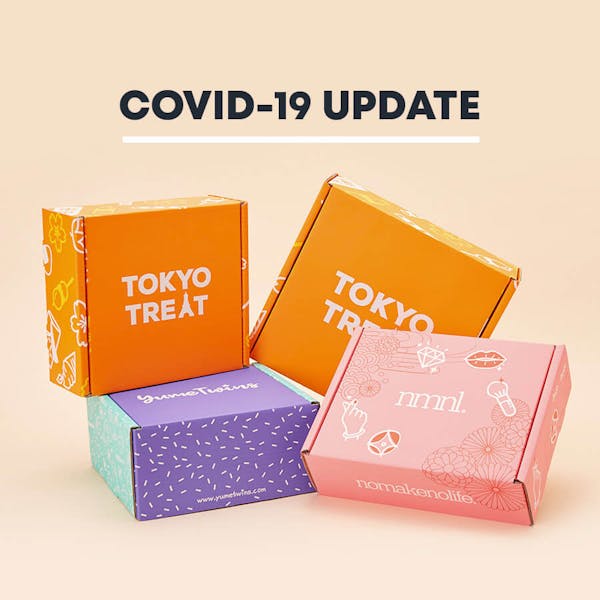 Update 4/9 Please refer to our FAQ for the full country list and most current information.
Fortunately, we are still able to ship your package. There are, however, some temporary restrictions on the types of shipping that Japan Post does. because of a decreasing number of flights going out from Japan.
You will be automatically upgraded to our priority shipping option which means you will receive your package even faster (10-14 days) However you will be charged $5. Tracking is not available currently but customers who have tracking are upgraded to priority without extra cost.
We apologize for the inconvenience, we worked really hard the past days and tried to find the best solution at the moment, we're hoping for your understanding. When Japan Post resumes shipping as usual you will be automatically taken off the priority shipping but of course you are able to upgrade again.
Update 4/9 Please refer to our FAQ for the full country list and most current information.
Unfortunately we are not able to ship your May box because of shipping restrictions and no airplanes being able to deliver the boxes to your location at the moment.
The solution we have for you is that we will automatically ship you our next box available when Japan Post resumes shipping again.
For example:
If shipping becomes available by the end of the month April, we will ship you the May box.
If shipping would become available again in May, we will ship you the June box.
In this case, your subscription will automatically be extended for 1 month extra and (you won't be charged for this).
We apologize for the inconvenience and hope for your understanding. We're also monitoring decisions by Japan Post daily, and we will keep you aware of the latest updates.
Japan Post has announced that due to COVID-19, many places around the world have taken extra measures such as stopping acceptance of inbound packages as well as considerable suspension and/or reduction of flights from or to Japan. This may cause significant delays, in particular when it comes to shipments to the US.
There's also a possibility that boxes that have been shipped might be returned to our warehouse in Japan, if Japan Post is unable to dispatch them to the destination countries. Affected customers have been contacted by email. If you have received an email please read it and follow the link to the customer portal so that we can process your choice of re-shipping, skipping or holding your box.
We understand that many members of our community are enduring hardships right now as the result of COVID-19, and we wanted to let you know that we stand with you. Stay healthy, strong and safe. For additional support and health advice, please check here.
https://www.post.japanpost.jp/int/information/2020/0401_02_en.html
Below please find the full list of countries affected:
https://www.post.japanpost.jp/int/information/2020/0401_02_01_en.pdf
See what else we are doing here:
https://help.tokyotreat.com/hc/en-us
Thank you for reading,
- The Yumetwins team